Border Environmental Forum XXV: Breakfast Keynote Speaker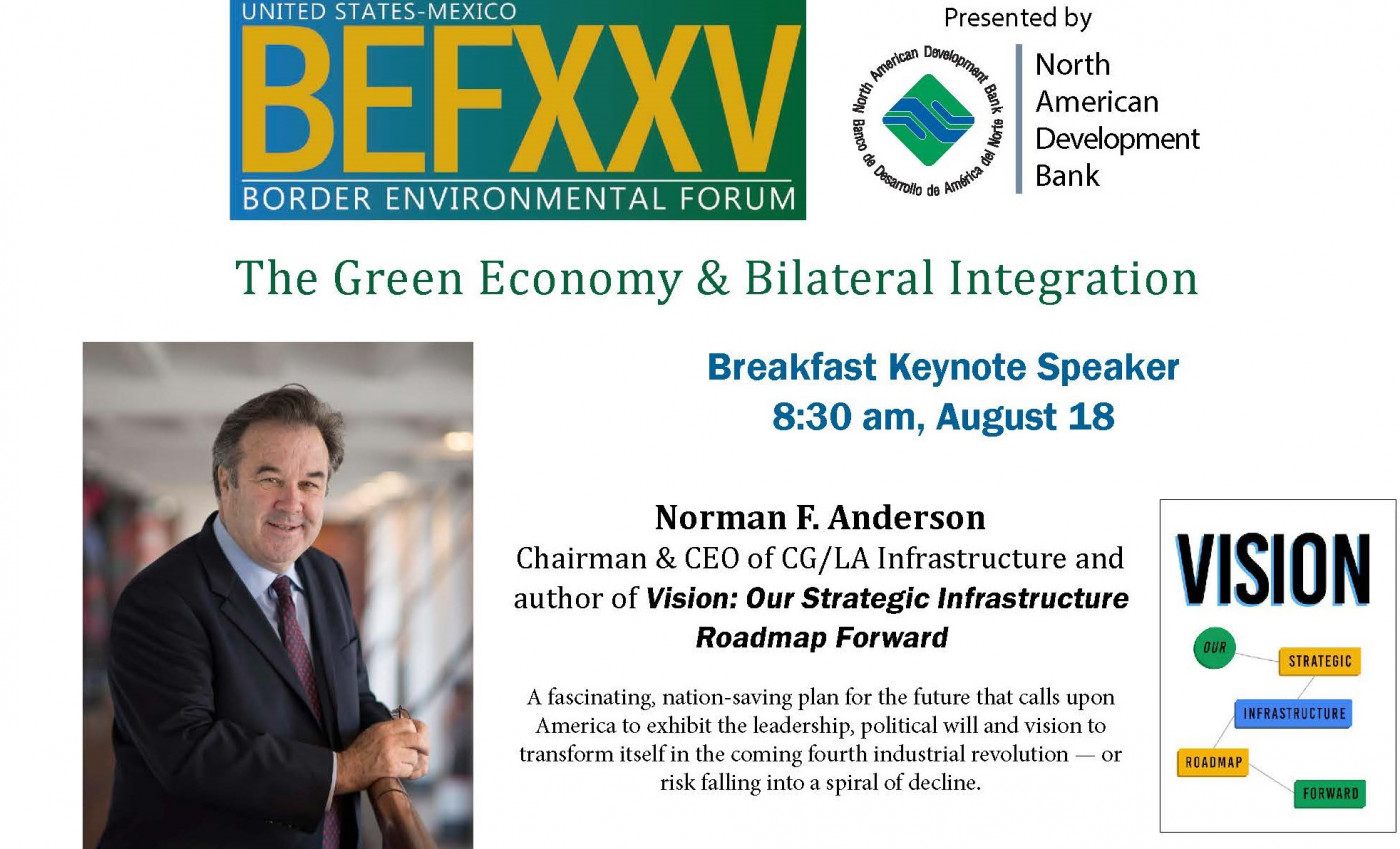 The breakfast keynote speaker on August 18, 2021, will be Norman F. Anderson, Chairman, and CEO of CG/LA Infrastructure and author of Vision: Our Strategic Infrastructure Roadmap Forward.
Mr. Anderson oversees the four pillars of CG/LA's business: (i) Blueprint 2025 2X, including strategic advocacy to double U.S. infrastructure investment; (ii) the Leadership Forum platform, including globally, the U.S. and Eurasia, as well as Latin America; (iii) GlobalViP, an algorithm-driven tool for infrastructure project owners; and (iv) Strategic Advisory, including M&A and both brownfield and greenfield investment opportunities. The National Infrastructure Performance Council, Blueprint 2025's steering committee, is anchored by founding chairmen Hank Greenberg and David Petraeus.
Registration fee: US$200.00 early bird.
Take advantage of the special rate at the Westin Riverwalk.
Make your online reservation here.
NADB's unique position as the only U.S.-Mexico binational development bank has provided the Bank the opportunity to be involved in some of the most relevant border infrastructure aimed at improving the environment over its 25-year history.
The forum will center the dialogue on the U.S.-Mexico relationship and regional efforts to develop projects that help improve the environment, the climate challenge related to water, highlighting current and future financing opportunities, new technologies, and how to continue building partnerships that will benefit both countries.
The agenda is available at BEF XXV.
Register at Whova.