Border Environmental Forum XXV: Opening Keynote Speaker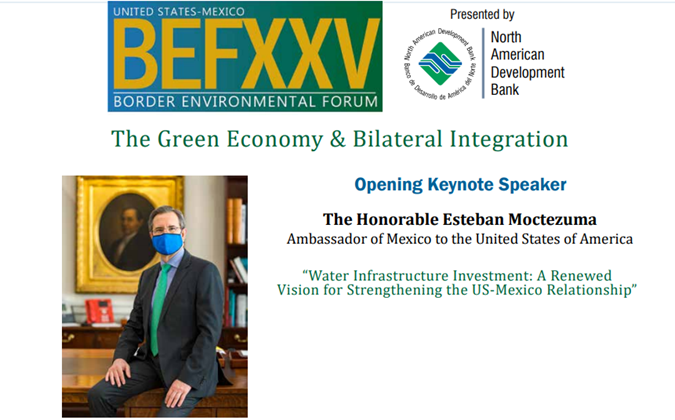 The opening keynote speaker will be the Honorable Esteban Moctezuma, Ambassador of Mexico to the United States, who will present "Water Infrastructure Investment: A Renewed Vision for Strengthening the US-Mexico Relationship."
Ambassador Moctezuma holds a degree in Economics by the National Autonomous University of Mexico (UNAM). He also earned a Master's degree in Economic Development from the University of Cambridge, United Kingdom and completed a course on Regional Development in Tokyo, Japan. He was awarded a Doctor Honoris Causa degree from the University of Sciences and Arts of Chiapas.
To learn more about Ambassador Moctezuma, please click here.
Registration fee: US$200.00 early bird.
Take advantage of the special rate at the Westin Riverwalk.
Make your online reservation here.
NADB's unique position as the only U.S.-Mexico binational development bank has provided the Bank the opportunity to be involved in some of the most relevant border infrastructure aimed at improving the environment over its 25-year history.
The forum will center the dialogue on the U.S.-Mexico relationship and regional efforts to develop projects that help improve the environment, the climate challenge related to water, highlighting current and future financing opportunities, new technologies, and how to continue building partnerships that will benefit both countries.
The agenda is available at BEF XXV.
Register at Whova.