City of Willcox, Arizona celebrates completion of Wastewater Treatment Plant Upgrades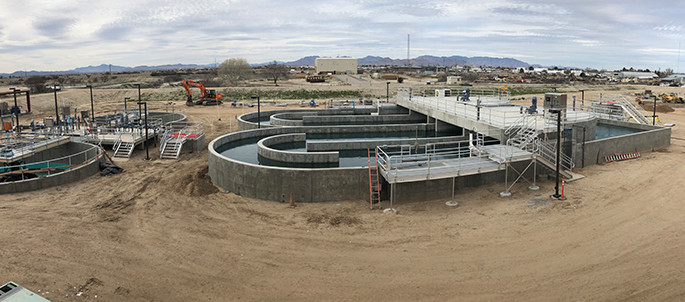 Willcox, Arizona – The City of Willcox celebrated the completion of improvements to its wastewater treatment plant (WWTP), which will increase the quality of the effluent discharged to Cochise Lake, as well as better wastewater treatment services for 100% of the community.
The ribbon-cutting ceremony took place this morning and was presided over by Mayor Mike Laws and City Manager Caleb Blaschke, Renata Manning, Grant Financing Department Director of the North American Development Bank (NADB); and representatives from the U.S. Environmental Protection Agency (EPA), U.S. Department of Agriculture Rural Development (USDA-RD) and the Arizona Department of Environmental Quality (ADEQ) as well as representatives from the offices of Senator Martha McSally and Congresswoman Ann Kirkpatrick (AZ-2).
The US$16.5 million project received a US$4.7 million grant from NADB through its Border Environment Infrastructure Fund (BEIF), which is funded by EPA and administered by the Bank. The remaining costs were covered by a grant and loan from USDA-RD.
The project included rehabilitating and upgrading the treatment plant by converting the existing lagoon system to an oxidation ditch process to meet the city's current and future needs. In addition to the oxidation ditches, some of the main components included installing secondary clarifiers, tertiary filters, disinfection and sludge management facilities. The increased quality of the effluent produced by the plant will not only comply with federal and state regulations, but also can be reused for other beneficial purposes.
"EPA is proud to partner with USDA and NADB to improve infrastructure and make a real difference in border communities like the City of Willcox," said Tomás Torres, Water Division Director for EPA's Pacific Southwest Region. "Through these important federal grant and loan programs, Willcox is saving money, protecting Cochise Lake and making critical improvements to its wastewater treatment system."
"Finalizing this project will allow the city government to be in full compliance with effluent discharge regulations and also preserve potable water resources by reusing the treated wastewater for irrigation purposes," stated Renata Manning. "We congratulate this border community for completing this project that will reduce ground and surface water contamination and, consequently, any related health risks for its residents."