Davis-Monthan Air Force Base celebrates completion of a 16-MW solar plant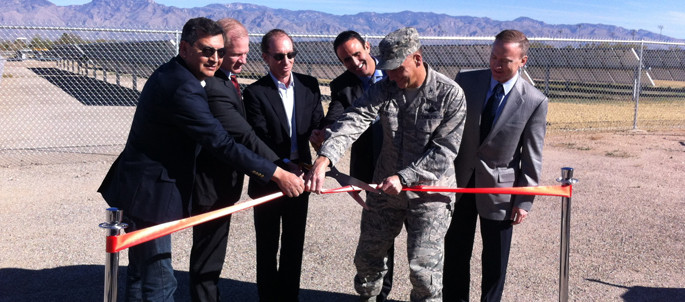 The electricity produced by the plant will be purchased by DMAFB under a 25-year Power Purchase Agreement, and TEP will acquire the Renewable Energy Credits (RECs) generated by the plant pursuant to a 20-year Master REC Agreement, aiding TEP in its compliance with Arizona's Renewable Energy Standard.
The project, constructed pursuant to an engineering, procurement and construction (EPC) contract provided by SunEdison, consists of the installation of 57,000 MEMC Silvantis™ solar modules mounted on single-axis trackers that will automatically follow the path of the sun during the day. The project will interconnect to DMAFB onsite and is expected to generate sufficient energy to cover about 35% of DMAFB's electrical use for 25 years.
"NADB is proud to have contributed to the financing of this project that is helping increase the installed renewable energy capacity in the region," stated NADB Deputy Managing Director, Alex Hinojosa. "We congratulate Davis Monthan Air Force Base for its decision to adopt the use of renewable energy to cover part of its electricity needs."
Estimated emission improvements include the avoidance of almost 17,000 metric tons of carbon dioxide, 11 metric tons of nitrogen oxides and 17 metric tons of sulfur dioxide per year. The project is expected to generate electricity equivalent to the annual consumption of approximately 2,100 households.
The project was certified by the Border Environment Cooperation Commission (BECC) in November 2012.