Financing executed to replace water and wastewater infrastructure for Long Island Village in Cameron County, TX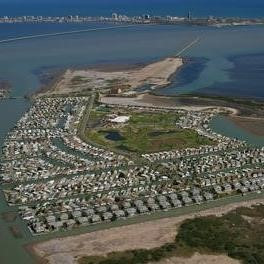 NADBank purchased US$20.8 million in unlimited tax bonds from Laguna Madre Water District.
San Antonio, Texas – The North American Development Bank (NADBank) acted as purchaser to the Laguna Madre Water District - Long Island Village Defined Area Unlimited Tax Bonds, Taxable Series 2023 in the amount of $20.8 million. The proceeds of the issuance will be used to replace deteriorated water distribution and wastewater collection systems for the entire community of Long Island Village, which will directly benefit close to 3,000 residents in this unincorporated area of Cameron County, Texas.
The existing water distribution and wastewater collection systems are over 40 years old and have exceeded their useful life. They were also designed for mobile homes, but the community has been evolving into primarily permanent homes in recent years. Consequently, the systems are prone to leaks and line breaks, and the pipeline sizes and connections are also substandard.
The main project components include replacing more than 24,500 linear feet of waterlines and 1,024 water connections, along with close to 21,000 linear feet of gravity wastewater lines and 1,024 sewer connections. The four existing wastewater lift stations will either be replaced, rehabilitated or decommissioned.
Upon completion, the project will help reduce the risk of leaks and line breaks in the water system, thus preventing excessive water losses, service disruptions and potential cross-contamination problems that increase the risk of waterborne diseases. Likewise, rehabilitation of the wastewater collection infrastructure will prevent leaks and system failures that could create health risks and impact local water sources due to seepage of untreated wastewater.
###
NADBank is a financial institution established and capitalized in equal parts by the United States and Mexico for the purpose of financing environmental infrastructure projects along their common border. As a pioneer institution in its field, the Bank is working to develop environmentally and financially sustainable projects with broad community support in a framework of close cooperation and coordination between Mexico and the United States.