Grant agreement signed for a wastewater collection and treatment project in Camargo, Tamaulipas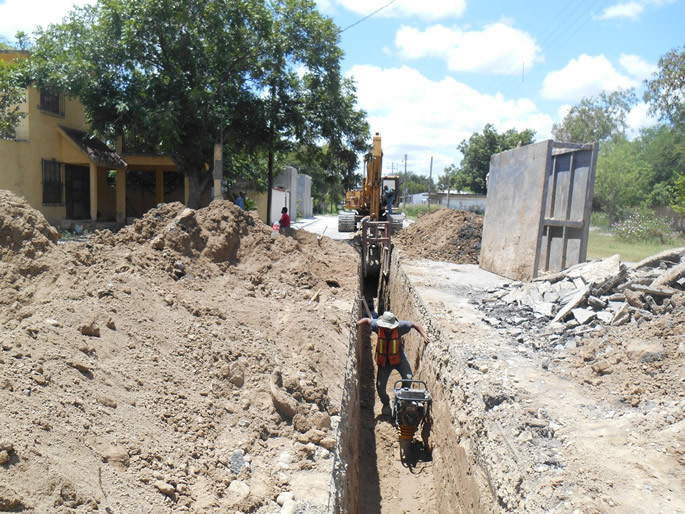 San Antonio, Texas – The North American Development Bank and the water utility, Comisión Estatal de Agua Potable y Alcantarillado de Camargo, Tamaulipas (COMAPA) have signed a US$2.53 million grant agreement to finance a wastewater collection and treatment project that will benefit 8,819 residents. The grant is being provided through NADB's Border Environment Infrastructure Fund (BEIF), which is funded by the U.S. Environmental Protection Agency (EPA).
The Project, which was certified by the NADB Board of Directors in June 2018, includes expansion of the sewer system to unserved areas of the La Misión and El Sauz subdivisions; replacement of the main lift station, general collector and force main; and construction of a new wastewater treatment plant.
The new lagoon-based wastewater treatment plant (WWTP) with the capacity to treat 570,000 gallons a day will replace the old facility, which has exceeded its useful life and is allowing raw wastewater flows to seep into the ground and water table near the San Juan River, a tributary to the Rio Grande River. The new plant will also include a system to capture and convert methane, reducing the greenhouse gases produced in the treatment process.
Replacement of the main lift station and force main will help ensure that the 22 lps wastewater is safely conveyed to the WWTP with less risk of leaks and spills. In addition, 347 new residential connections will be installed providing first-time service to an estimated 1,180 residents.
The BEIF grant will be used to complete the construction of the treatment plant, the main lift station, and the force main between the WWTP and lift station and approximately 161 residential connections in La Mision, including the decommissioning of existing septic tanks.
"This project will serve an economically distressed community by helping to reduce water contamination and the risk of gastrointestinal illnesses," stated NADB Managing Director Alex Hinojosa. "Thanks to the grant funding provided by EPA, it's possible to carry out projects to protect water bodies shared by the two countries, in this case the Rio Grande."