Juarez, Chihuahua celebrates completion of Valle de Juarez Wastewater Treatment Plant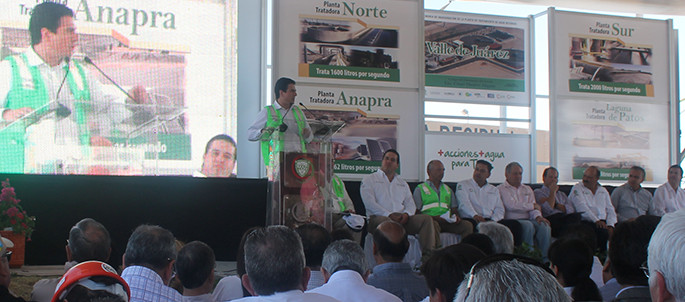 Ciudad Juarez, Chihuahua. – A ribbon-cutting ceremony was held today to inaugurate the Valle de Juarez Wastewater Treatment Plant, also known as the South-South plant, sponsored by the local water utility, Junta Municipal de Agua y Saneamiento (JMAS). The plant was constructed in the community of San Isidro by Tratamiento de Aguas Residuales de Ciudad Juárez, S.A. de C.V. (TAR), under a build-operate-transfer (BOT) agreement.
Dignitaries present at the event included Chihuahua Governor Cesar Duarte, Ciudad Juárez Mayor Enrique Serrano Escobar, Director of Mexico's National Water Commission David Korenfeld, along with José Mario Sánchez Soledad, Deputy General Manager of the Border Environment Cooperation Commission (BECC), and Gerónimo Gutiérrez, Managing Director of the North American Development Bank (NADB).
This wastewater treatment project, which also includes construction of a sewer main, was certified by the BECC and approved for financing from NADB in December 2009. The project will eliminate untreated sewage discharges into the Juarez Valley irrigation system and eventually the Rio Grande River.
The US$42.3 million project received a US$9.3 million loan from NADB, as well as an US$8.0 million grant through Border Environment Infrastructure Fund (BEIF) which is funded by EPA and administered by NADB. The remaining funding was provided by the Mexican federal government, the Chihuahua state government and equity contributions from TAR.
The plant will have the capacity to treat 11.41 million gallons per day of wastewater, while the collector will extend 10 kilometers to convey the sewage flows from the southeastern area of the municipality to the plant.
"This Project will reduce surface and ground water pollution and soil contamination, as well as eliminate public exposure to untreated sewage. Previously the southeastern area of the municipality generated 8.5 million gallons a day of untreated wastewater that was being discharged into agricultural canals and the ground, which could potentially flow into surface and ground water sources such as the Rio Grande," stated BECC Deputy General Administrator José Mario Sánchez Soledad. "Through the combined efforts of all our partners, this region is achieving 100% wastewater treatment coverage."
For his part, NADB Managing Director Gerónimo Gutiérrez added that "Ciudad Juárez is among the very first communities with which NADB worked to improve basic infrastructure. This project demonstrates how NADB effectively applies a combination of loan and grant funding to make projects successful. As we reach our 20th anniversary, we are pleased to continue working with Ciudad Juárez and the State of Chihuahua in order to improve the quality of life of citizens."
In Chihuahua, BECC has certified 27 projects representing a total cost of US$502.50 million. For its part, NADB has provided loans and grants totaling approximately US$98.2 million to help finance 23 of those projects that will benefit a million and half residents of border communities in that state. These projects include construction of the four wastewater treatment plants in Juarez: Anapra, North, South and now the South-South or Valle de Juárez plant.