IFC and NADB provide US$200 million loan to IEnova to fund solar power projects in México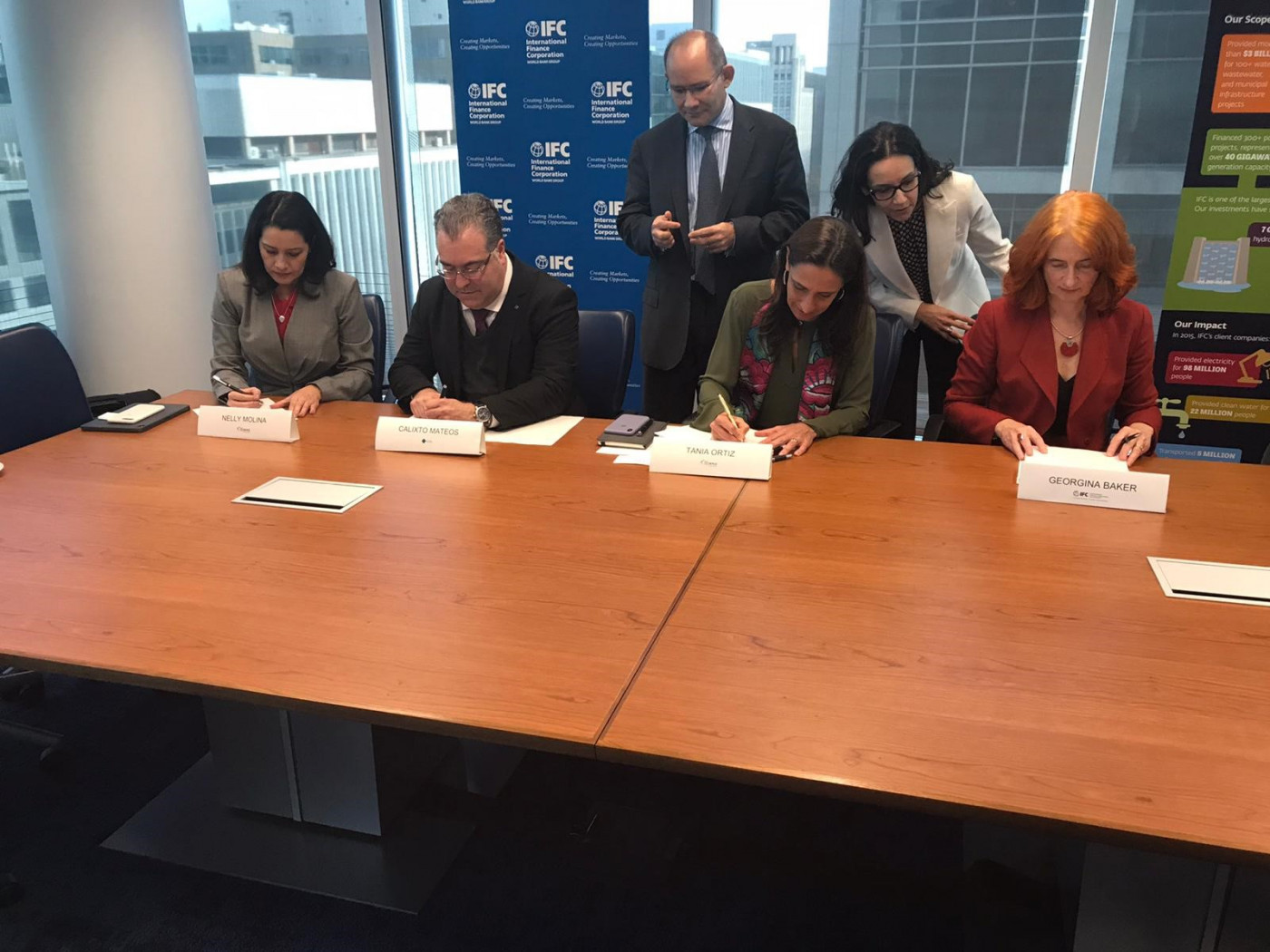 IFC and NADB provide US$200 million loan to IEnova to fund solar power projects in México
In Mexico:
Mauricio González Lara
mgonzalezlara@ifc.org
(55) 3098 0248
Mexico City, November 19, 2019—IFC, a member of the World Bank Group, and the North American Development Bank (NADB) will provide US$200 million in green loans to Infraestructura Energética Nova S.A.B. de C.V. (IEnova), to finance four solar power plants with a total capacity of 376 MW across Mexico.
The financing is part of IFC's efforts to work with leading private-sector firms in Mexico to promote climate change mitigation projects, including the development of non-conventional renewable energy. IFC is providing a US$100 million loan from its own account and, initially, mobilizing another US$100 million from NADB. The NADB loan will be oriented completely to the design, construction and operation of IEnova's 125 MW solar park, "Don Diego", located in the municipality of Benjamin Hill, Sonora.
IEnova's power plants will reduce emissions by 561,652 tons/year of carbon-dioxide equivalent, thus supporting the Government of Mexico's efforts to cut greenhouse-gas emissions and helping to diversify the country's energy supply.
IEnova is one of the largest private sector energy companies in Mexico, with operations in natural gas, power generation and refined products storage segments. The projects being financed are the company's first in the solar energy space.
This is IFC's first financing in Mexico certified under the Green Loan Principles, which provide a framework and guidelines to confirm that the proceeds of the loan are used for climate-friendly projects.
"We are very pleased to receive the first loan certified under the Green Loan Principles that IFC grants to a company in Mexico," said Tania Ortiz, CEO of IEnova. "Once again, IEnova is at the forefront and stands out as a leader, not only because of its innovation and financial discipline, but also for its high standards in terms of sustainability," she added.
Tania Ortiz also mentioned that "with this important strategic alliance with IFC and NADB, we reiterate, in the hands of two of the most important development banks, our confidence in Mexico and our commitment to continue investing in energy infrastructure projects that promote the development and well-being of our country".
"This investment, in addition to other recent IFC-financed solar power generation projects, is part of our long-standing support to foster the development of a sophisticated and competitive power market in México," said Georgina Baker, IFC's Vice President for Latin America and the Caribbean. "The private sector needs to play a leading role in Mexico's efforts to mitigate climate change and with these projects, IEnova is helping further the country's climate agenda," Baker said.
"With this project, Sonora is becoming one of the top producers of solar energy in Mexico and thus helping the Mexican government reach its renewable energy goal." stated NADB Managing Director Calixto Mateos-Hanel. "We have worked with IEnova on other renewable projects and are confident this project will also be a success."
IFC has been one of the largest financiers of the power sector in emerging markets, committing $6.7 billion (including mobilization) as of FY 2018 to support power sector-related investments. IFC has shifted its focus to contribute to the transformation of the energy mix by investing in assets that displace carbon-intensive thermal assets with renewable energy assets. As of FY 2018, IFC's power sector commitments were 55 percent in renewable energy and energy efficiency, 31 percent in thermal generation, and 14 percent in distribution and transmission projects.
About IFC:
IFC - a member of the World Bank Group - is the leading international development institution dedicated to the private sector in emerging markets. Together with more than 2,000 companies worldwide, we use our capital, experience, and influence to create opportunities where they are most needed. In 2018, our long-term financing in developing countries amounted to more than $ 23 billion, harnessing the power of the private sector to end extreme poverty and boost shared prosperity. For more information, visit www.ifc.org

About NADB
NADB is a financial institution established and capitalized in equal parts by the United States and Mexico for the purpose of financing environmental infrastructure projects along their common border. As a pioneer institution in its field, the Bank is working to develop environmentally and financially sustainable projects with broad community support in a framework of close cooperation and coordination between Mexico and the United States.
About IEnova
IEnova, a Sempra Energy Company, develops, builds and operates energy infrastructure in Mexico. With more than 1,300 employees and approximately $9 billion dollars of total assets, IEnova is present in various business lines across the Mexican energy value chain. IEnova is the first energy infrastructure company to be listed on the Mexican Stock Exchange, and it is the only energy company that is included in the S&P/BMV IPC and in the IPC Sustainability Index.
Follow the conversation:
www.twitter.com/IEnova_MX
www.ifc.org/lac
www.twitter.com/IFC_LAC
www.facebook.com/IFCwbg
www.twitter.com/IFC_org
www.youtube.com/IFCvideocasts
www.instagram.com/ifc_org
www.ifc.org/SocialMediaIndex
mework of close cooperation and coordination between Mexico and the United States.