NADB, EPA and SEPROA focused on reducing transboundary flows of sewage into New River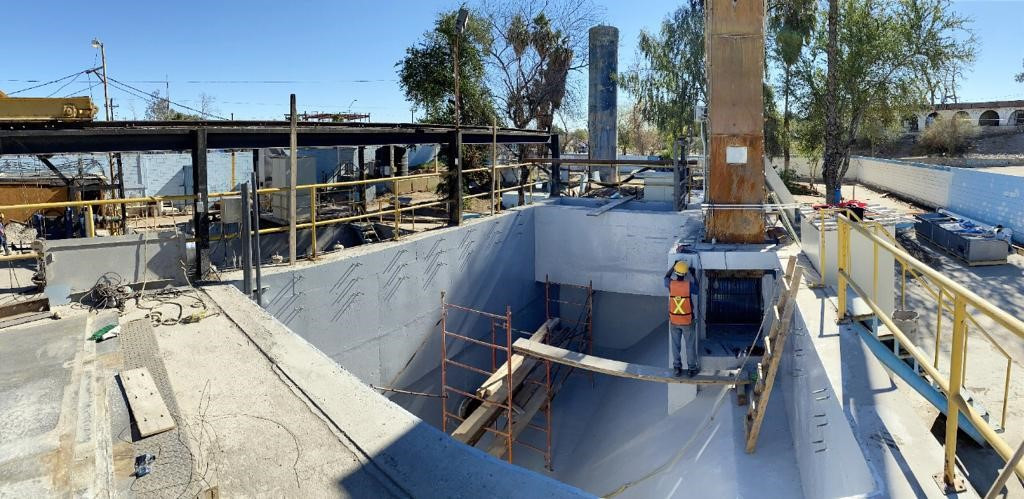 Two new projects for the rehabilitation of the wastewater collection system in Mexicali, B.C. totaling $10.6 million were approved in the last 9 months
The North American Development Bank (NADB), the U.S. Environmental Protection Agency (EPA), the Mexican Section of the International Border Water Commission, the Baja California Watershed Division of Mexico´s National Water Commission (CONAGUA), and the Water Management, and the Water Management, Treatment and Protection Agency for the State of Baja California (SEPROA) held a virtual ceremony to announce the groundbreaking of wastewater rehabilitation works of the binational sanitation program for Mexicali, Baja California.
Within the framework of this program, these institutions have been collaborating over nine months to support the development and financing of two projects totaling US$10.6 million, that address the rehabilitation of sewage lines, and lift stations.
The first project, Wastewater Collection System Improvements (Phase I) and Lift Stations, estimated US$6.8 million, will replace 38,000 feet of deteriorated pipelines and rehabilitate three lift stations, which pump an estimated 1,450 liters per second in the project area.
The second project will address the problem of 12 small lift stations that have reached or exceeded their expected useful life and are in immediate need of repair and/or replacement. Most of these lift stations are older than 30 years, with some pump replacement work performed over the years. A failure of one of these lift stations typically results in a discharge of untreated wastewater into the New River, which flows into the Salton Sea in the United States. The project cost is US$4.1 million and once completed, will safely convey wastewater flows to the existing wastewater treatment plants.
Both projects will improve wastewater conveyance infrastructure for more than 41,000 existing residential connections, benefitting nearly 150,000 residents.
Funding for these projects is supported through two Border Environment Infrastructure Fund (BEIF) grants totaling US$5.3 million and US$5.3 million from Mexican federal, state, and local agencies. BEIF grants are funded by EPA and administered by NADB.
Participating in the virtual event were Secretary Salomón Faz Apodaca, SEPROA, Calixto Mateos, NADB Managing Director, Mexican Commissioner of the International Border Water Commission, Humberto Marengo Magallón, Tomás Torres, Director of Water Division for EPA's Pacific Southwest, Armando Samaniego, Mexicali Utility (CESPM) Managing Director, Miguel Ángel Rodriguez Todd, Director of Organismo de Cuenca Península de Baja California of CONAGUA.
"Addressing the complex environmental issues we face along the border is a priority we share with our colleagues in Mexico," said EPA Acting Administrator Jane Nishida. "This project will benefit communities on both sides of our shared border by minimizing the risk of sewage backups and overflows onto local streets and into the New River."
"I'm very pleased that NADB issued a grant to CESPM that will help finance projects to mitigate cross-border pollution that flows into the New River," said Rep. Juan Vargas. "Our border region needs infrastructure and restoration programs to help protect the public, environment, and economy. Binational collaboration, from all levels of government, is essential to tackling the ongoing cross-border pollution crisis."
"NADB is proud to have collaborated with EPA to provide the financing for these important environmental projects in Mexicali, Baja California," said Calixto Mateos, NADB Managing Director. "Projects like these illustrate NADB's continued commitment to work with all levels or government to carry out projects that end transboundary wastewater discharges and pollution of water sources."
"It is worth noting that these efforts to reduce transboundary wastewater discharges to the New River represent the improvement of public health and well-being of the sister cities, Mexicali, Baja California and Calexico, California," said Secretary Salomón Faz Apodaca, SEPROA.
These projects are part of a strategic wastewater plan aimed at reducing discharges to the New River, prioritizing infrastructure rehabilitation, and establishing a financial strategy. The new lift stations will help protect health and the environment by minimizing the risk of sewage backups and overflows onto local streets and into the New River, which flows northward into the United States, and will also go toward helping reduce water pollution and the risk of waterborne diseases.
For video of the program, please click here.