NADBank and Mexican local, state and federal agencies sign a proposal for resolving transboundary wastewater flows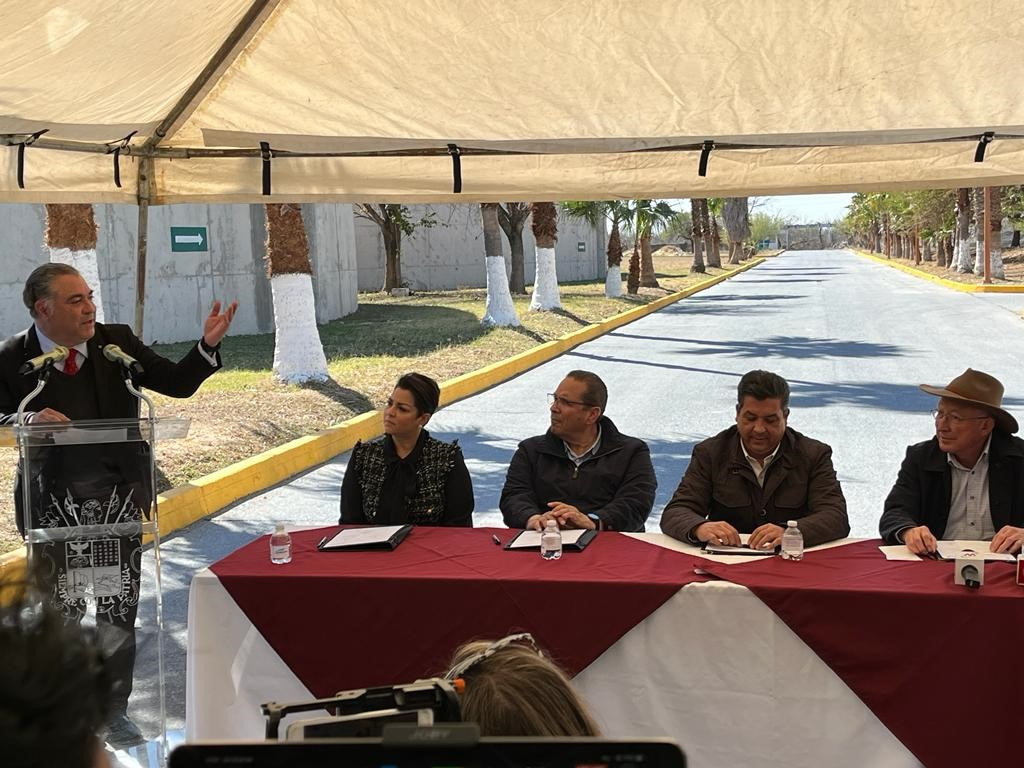 NADBank will provide US$200,000 in technical assistance for a needs assessment of Nuevo Laredo's wastewater treatment plants
Nuevo Laredo, Tamaulipas. – Today, the North American Development Bank (NADBank), the City of Nuevo Laredo, Tamaulipas, the local water utility (COMAPA), the Tamaulipas state water agency (CEAT), and the Mexican National Water Commission (CONAGUA) signed an investment and financing proposal to reduce and prevent future transboundary wastewater flows into the Rio Grande, a shared water source between Mexico and the United States. The proposal outlines the investments needed to replace old and deteriorated sanitary sewer and collection systems, rehabilitate or expand the wastewater treatment plants, and extend the sewer system to areas currently without service.
NADBank will commit up to US$200,000 in grant funding through its technical assistance program to COMAPA for a study to provide a needs assessment of the operation and sustainability of the facilities and develop preliminary engineering for the projects. The study will also detail the required investments for rehabilitating and improving the International and Northwest Wastewater Treatment Plants, as well as expansion of the latter, that will help eliminate raw discharges into the Rio Grande.
The event was presided over by the U.S. Ambassador to Mexico, Ken Salazar; NADBank Managing and Deputy Managing Directors, Calixto Mateos Hanel and John Beckham, respectively; the Tamaulipas Governor, Francisco García Cabeza de Vaca, the Mayor of Nuevo Laredo, Carmen Lilia Canturosas; and the General Director of CEAT, Salvador Treviño Garza, as well as representatives from CONAGUA and both Sections of the International Boundary and Water Commission (IBWC/CILA), among others.
"Today we're seeing the fruits of five years of work, showing that we're now in a new era of binational cooperation. Our countries are now enjoying more and more shared prosperity by working together and integrating more closely. Two nations, one future!" expressed Ambassador Salazar during the event.
"This event marks an important step for resolving transboundary sewage flows in the Rio Grande, and we are honored to help coordinate these efforts to address this environmental issue," stated Mateos Hanel. "NADBank will offer its expertise in financial structuring and project management to help Nuevo Laredo find the most cost-effective, long-term solution to collecting and treating 100% of the wastewater produced in the municipality."
Over the last year and a half, NADBank has been working with Nuevo Laredo and COMAPA to develop an investment program and corresponding financing plan to eliminate untreated wastewater discharges into the Rio Grande.
To this end, the Bank has contributed more than US$450,000 through its Project Development Assistance Program, funded by the U.S. Environmental Protection Agency, to aid the City of Nuevo Laredo and COMAPA in developing this plan.
John Beckham indicated that "NADBank is a unique binational instrument for bringing together all levels of government in both the U.S. and Mexico to collaborate on addressing shared environmental challenges, ultimately improving the quality of life for millions of residents in the region."
###