NADBank's Border Environmental Forum XXVI spotlights binational cooperation and sustainable development for the border region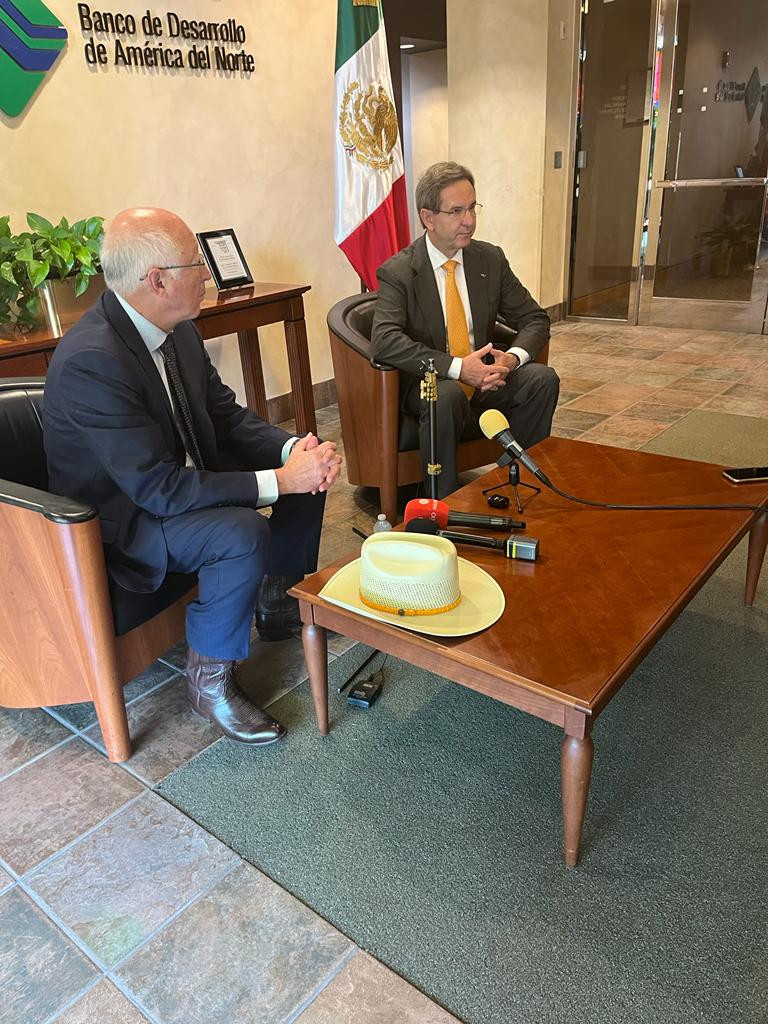 San Antonio, Texas – U.S. Ambassador to Mexico Ken Salazar and Mexican Ambassador to the U.S. Esteban Moctezuma inaugurated the U.S.-Mexico Border Environmental Forum (BEFXXVI) being held in San Antonio, Texas from August 24-25.
The two-day event hosted by the North American Development Bank (NADBank) focuses on cross-border partnerships, climate finance and environmental, social and governance (ESG) trends, climate change mitigation and adaptation, clean energy and water, among other topics. Featuring top U.S. and Mexican officials, the event is an opportunity to learn more about sustainable development that can help improve the environment in the border region.
Ambassadors Salazar and Moctezuma were the keynote speakers to kick off the event on day one, discussing the importance of binational collaboration to create a cleaner environment that will help improve the health and quality of life of residents on both sides of the border.
"Our shared border and security are crucial for our shared prosperity, as they are key components to build a North American Economic Powerhouse," said Ambassador Salazar. "Mirrored investments along our shared border are crucial to protect our communities, seize the opportunities that come from our integration, and protect the environment."
"During the recent meeting between Presidents López Obrador and Joe Biden, Mexico announced an investment of US$1.5 billion in border infrastructure to facilitate trade and increase competitiveness and security in our region," stated Ambassador Montezuma. "For this reason, maintaining a fluid dialogue with the U.S. Government and the private sector that helps broaden cooperation, under the highest environmental and technological standards, is essential for a more prosperous and humanistic North American region."
"NADBank is proud to host the Border Environmental Forum again this year. By bringing together local and state officials, private sector developers, academics, and ESG and energy innovators from the U.S. and Mexico, we are able to provide a platform that fosters the exchange of ideas and collaboration between the two countries in a way that will provide the most benefits to the border region," said NADBank Managing Director Calixto Mateos Hanel.
Other keynote speakers include Nuevo Leon Governor Samuel Alejandro Garcia Sepulveda and Ken Roberts, founder and president of World City, a company focused on the impacts of international trade, as well as Mexican Federal Senator Gina Cruz Blackledge from Baja California and U.S. Congressman Tony Gonzales.
The sponsors of this year's forum include Kansas City Southern Lines; IBC Bank; City of San Antonio Economic Development Department, Global Engagement Office; Cacheux, Cavazos & Newton; UK Export Finance; Overland Architecture Urban Design; Anzalduas International Bridge; Ritch Mueller; Source; Avisa Partners; Holland & Knight; Goldman, Sachs & Co. and McDermott Will & Emery.
The forum was a hybrid format, allowing people to attend in person or virtually. This event was originally created and hosted by the Texas General Land Office (GLO) in 1994 with the mission of bringing people together from both sides of the U.S.-Mexico border to exchange information about energy, economic development and environmental issues.
###
NADBank is a financial institution established and capitalized in equal parts by the United States and Mexico for the purpose of financing environmental infrastructure projects along their common border. As a pioneer institution in its field, the Bank is working to develop environmentally and financially sustainable projects with broad community support in a framework of close cooperation and coordination between Mexico and the United States.