Work completed on water system improvements in Anthony, New Mexico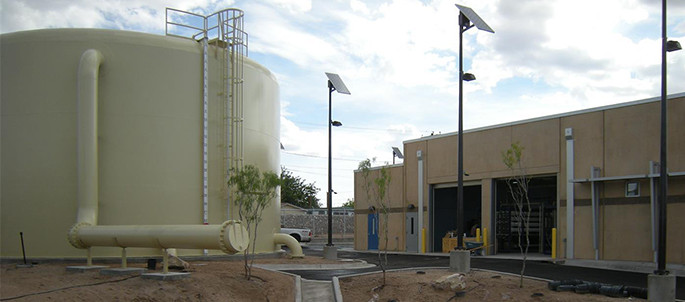 The US$8.8 million project received a US$2.8 million grant from the U.S. Environmental Protection Agency (EPA) through the Border Environment Infrastructure Fund (BEIF), which is administered by the North American Development Bank (NADB).
The Border Environment Cooperation Commission (BECC) certified the project in May 2011, as well a provided a US$261,000 grant through its Project Development Assistance Program (PDAP) for project design and engineering.
The project sponsored by the Anthony Water and Sanitation District (AWSD) included the construction of two water wells with a combined capacity of 1,700 gallons a minute (gpm), as well as the installation of new pump equipment in two other water wells, a reverse osmosis unit with a capacity of 600 gpm and more than 14,900 feet of PVC waterlines. The project was designed by the firm Molzen Corbin with offices in Las Cruces and Albuquerque, New Mexico. Phase one construction was done by Henkle Drilling, phase two construction was by Burn Construction, and phase three was by Smithco Construction.
These improvements will reduce arsenic concentrations to acceptable levels in compliance with current federal regulations, thus protecting the health of the local population. In addition, AWSD will be able to tactically draw water from all wells, lessening the local burden on the aquifer.
"This project is improving the quality of life of local residents by reducing the risks associated with arsenic consumption. With the completion of this project residents now have access to safe drinking water and a water system that will meet the future needs of this community. Without the construction of the new wells, the existing wells would have continued to be stressed," said Maria Elena Giner, BECC General Manager. "To date, BECC has certified 10 projects in New Mexico, eight of which have been financed by NADB. Of these 10 projects, eight are related to water and wastewater services including the Anthony Water System Improvement project, one for water conservation improvements and one for a landfill expansion and transfer station."
The ceremony was presided over by AWSD Superintendent José E. Terrones and representatives of EPA, BECC, the New Mexico Finance Authority, the United States Department of Agriculture Rural Development (USDA-RD) and the New Mexico Environment Department, among other local officials.