New water interconnection line starts operations in San Luis, Arizona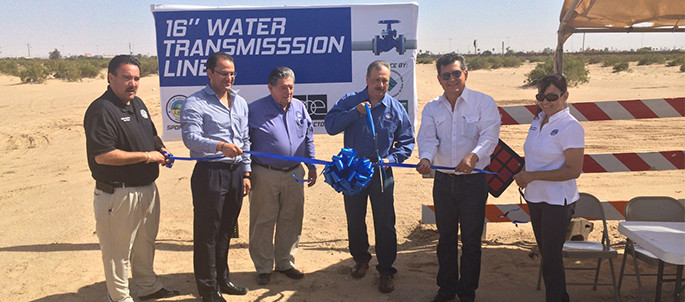 NADB provided a US$500,000 grant through its Community Assistance Program (CAP) for construction of the project, the first to be completed under the CAP, which is aimed at supporting critical environmental infrastructure projects in the U.S.-Mexico border region.
The city has two separate water distribution systems: the central system with a capacity of 4 million gallons per day (mgd) and the newer East Mesa system with 3 mgd of capacity. During the summer, the central system operates at maximum capacity and is subject to low-pressure events, while the East Mesa system is underutilized and has 90% of its capacity available.
The interconnection of these two systems addresses this problem and improves the reliability and flexibility of the city's water services. The new waterline will increase total water supply capacity for the central system from 4 to 7 MGD, thereby reducing the risk of possible water shortages during periods of peak demand, especially during the hot summer months.
"NADB is pleased to be able to assist San Luis with this important project," stated NADB Deputy Managing Director Alex Hinojosa. "This is a great example of how NADB can apply limited grant funds to high-priority projects in which debt financing may not be affordable."
The US$631,000 project complied with all the Border Environment Cooperation Commission (BECC) certification criteria and was approved by the NADB-BECC Board of Directors on March 13, 2013.
In February 2011, the NADB Board of Directors approved the CAP program for the purpose of providing grant assistance from a portion of the Bank's retained earnings for the implementation of small, but critical, environmental infrastructure projects in communities with limited or no capacity to incur debt.
For more information regarding the NADB and the projects it finances, visit www.nadb.org.