Nogales, AZ Wastewater Project marks completion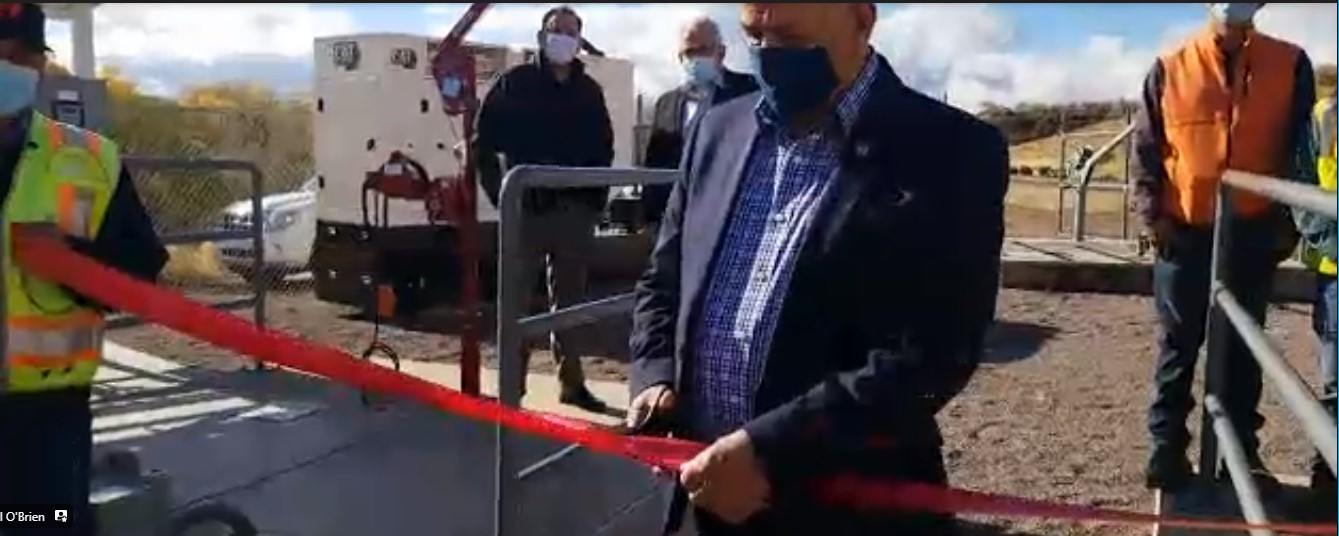 Project funded by $450,000 grant from the North American Development Bank
Nogales, Arizona – Today, the North American Development Bank (NADB) and the City of Nogales, Arizona hosted a ribbon-cutting ceremony marking the completion of improvements for the Peña Blanca subdivision wastewater system. The project will help improve the operational efficiency of the wastewater system and eliminate the risk of untreated or inadequately treated wastewater discharges to Potrero Creek.
Nogales Mayor Arturo Garino, Acting City Manager Robert Thompson, Deputy City Manager John Kissinger, Public Works Director Alejandro Barcenas, City Engineer Juan Guerra and a representative from U.S. Representative Raul Grijalva's office joined Arizona State Senator-Elect Rosanna Gabaldón and Salvador Lopez, NADB Chief Environmental Officer, who participated in the ceremony.
Funded by a grant in an amount of $450,000 from NADB's Community Assistance Program (CAP), the project consisted of the replacement of approximately 764 feet of a sanitary sewer force main and relocation of the pipe below Potrero Creek. As a result of this project, wastewater services for 75 existing residential connections and two public schools in the Peña Blanca subdivision will be improved and the risk of line failures that could result in approximately 84,000 gallons per day (gpd) of untreated or inadequately treated wastewater discharges will be eliminated. Improvements at the pump station will allow for remote monitoring and management capabilities, resulting in better energy efficiency and lower maintenance costs.
"The Bank created the Community Assistance Program precisely to support projects like this one in Nogales, Arizona" said Salvador Lopez, NADB Chief Environmental Officer. "We are pleased to complete this project that ensures that two public schools, and the community at large, have adequate wastewater collection service and reduced risk of discharges to the environment"
The pump station conveys flows from the Peña Blanca subdivision to the International Outfall Interceptor (IOI). Prior to this project, the force main from the pump station to the interconnection point at the IOI was buried under the creek bed; however, storm events and other weather conditions eroded the wash bed, leaving the pipeline exposed at the Potrero Creek crossing and vulnerable to failures resulting in wastewater spills. Emergency repairs were required twice since 2014. These spills to the creek posed an environmental and health risk for nearby wells in the community of Rio Rico, which provide drinking water to approximately 19,000 residents and are located downstream of the Peña Blanca force main at Potrero Creek.