Piedras Negras, Coahuila to receive US$250,000 grant for wastewater system improvements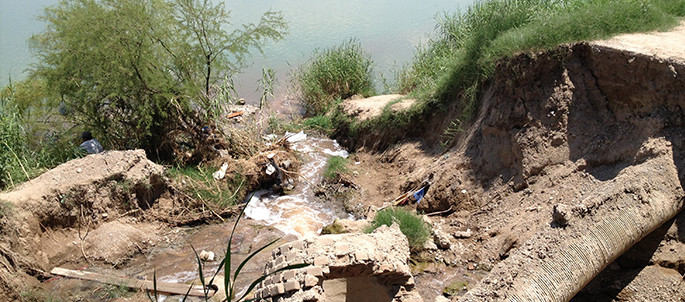 The project will receive a grant for up to US$250,000 through NADB's Community Assistance Program (CAP) to repair two sections of the Rio Bravo Marginal Collector, make general repairs in the area of Lift Station No. 4 and replace 154 manhole covers and frames located throughout the city. These improvements will prevent the discharge of at least 2.3 million gallons a day of untreated sewage discharges, thus reducing water pollution and the risk of waterborne diseases for 65,000 residents.
In the summer of 2013, heavy downpours and flooding in Piedras Negras severely damaged the city's wastewater collection infrastructure. The Government of Coahuila, through the State Water Commission and in coordination with the local water utility, SIMAS, requested support from NADB and BECC to help repair the damage. Working together, a project was developed to rehabilitate the wastewater collection system.
The two institutions have worked as a team to support a border community in an emergency, applying their technical and financial experience and providing practical solutions through this new CAP program," stated BECC General Administrator Maria Elena Giner.
"CAP funding will address a priority need for basic infrastructure benefitting thousands of community residents," stated NADB Managing Director Gerónimo Gutiérrez. "We are pleased to be able to contribute to the implementation of these works in Piedras Negras."
In addition to the project in Piedras Negras, two wastewater projects for the communities of San Luis Rio Colorado, Sonora and Palmview, Texas were also certified and approved for funding during the meeting.
As part of the BECC-NADB 20th anniversary celebration, a seminar was held to analyze the achievements of these two institutions and what their future vision should be, followed by a reception presided over by the Under Secretary of Finance and Public Credit, Fernando Aportela Rodríguez, and U.S. Treasury Assistant Secretary for International Markets and Development, Marisa Lago.
Dr. Aportela Rodríguez and Marisa Lago highlighted the importance of NADB and BECC in achieving shared binational goals.