Solar plant for Tijuana children's hospital begins operations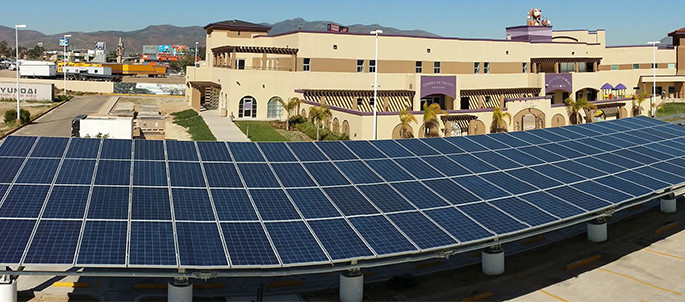 Tijuana, BC – Baja California Governor Francisco Vega de la Madrid, along with Gerónimo Gutiérrez, Managing Director of the North American Development Bank (NADB), and Francisco Javier Orduño, Director of the Baja California State Energy Commission (CEEBC), presided over the ribbon-cutting ceremony for the 150-kw photovoltaic solar plant that will supply electricity to the Hospital Infantil de las Californias in Tijuana, Baja California.
NADB and the Border Environment Cooperation Commission (BECC) jointly provided the Government of Baja California with US$240,000 in grant funding through their respective technical assistance programs for this project involving the installation of 528 solar panels in the hospital parking lot, which are expected to generate around 277,500 kilowatt-hours of electricity annually.
The US$471,000 solar plant will cover 80% of the medical center's energy needs, which represents an annual savings of about $400,000 pesos over the useful life of the project, estimated at 25 years.
Working with various vendors, NADB succeeded in obtaining the donation of the solar panels from the manufacturer Astronergy, as well as two 100-kw inverters from KACO New Energy, Inc., and the structures for mounting the panels from VERSOL. The company Sociedad de Ingenieros Eléctricos y Electrónicos, S.A. de Mexicali was in charge of building the solar plant.
"In addition to NADB and BECC funding for this project, the collaboration of CEEBC and the various companies that donated their technology made this solar plant possible at no cost to the children's hospital," stated Mr. Gutiérrez. "This solar facility will result in significant energy savings that will ultimately benefit more children on both sides of the California-Baja California border."
Hospital Infantil de la Californias is a private, not-for-profit hospital established in 1994 offering 26 specialized pediatric services to children, from newborns to 17 years of age, on both sides of the U.S.-Mexico border, regardless of race, religion or socioeconomic status.
NADB and BECC are working with the Government of Baja California to develop studies and projects that will help strengthen its capacity to support the promotion and development of the renewable energy sector in the state.
For more information about Astronergy, visit www.astronergy.com; KACO New Energy, visit www.kaco-newenergy.com and VERSOL, visit www.versolsolar.com.
For more information about the BECC's services or how to obtain NADB financing for projects in the U.S.-Mexico border region, visit www.nadb.org or www.cocef.org.