Baja California State Government and NADBank formalize financing to advace water supply and sanitation in Baja California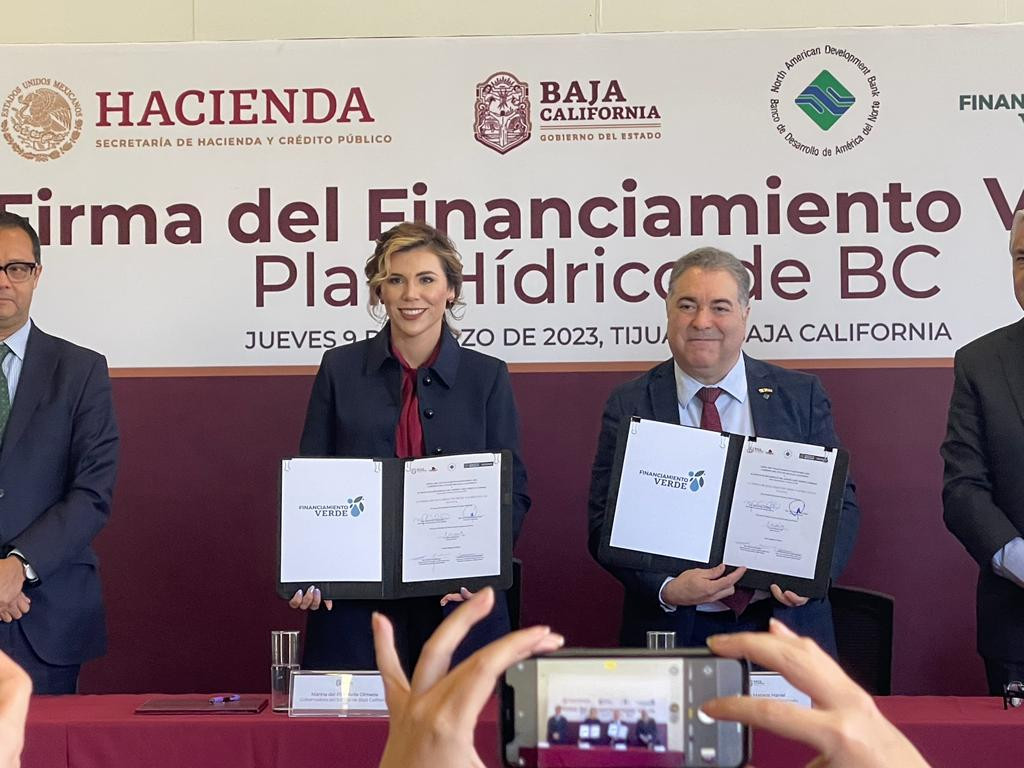 * A fundamental step in addressing binational issues and assuring clean water in the region
To reverse the historic backlog in water infrastructure and secure an adequate water supply for Baja California households, as well as to take aggressive action regarding wastewater issues, Baja California Governor Marina del Pilar Avila Olmeda executed the state's first sustainable financing with the North American Development Bank (NADBank) for $3.0 billion Mexican pesos.
The Governor stated that this transaction ensures achievement of Mexico's commitments and goals as part of the United Nations (UN) Climate Change Conference and the UN 2023 Agenda for Sustainable Development Goals.
In her message, the State Governor highlighted the importance of water as a means of building a better future, which prompted coordination at all three levels of the Mexican government led by President Andrés Manuel López Obrador, who has pushed for permanent coordination with the United States. Thanks to these efforts and NADBank's involvement, historic improvements will be achieved in terms of water management in the Tijuana River basin and along the California and Baja California coastlines.
"The signing of this agreement is an example of what we can achieve by working together. Reaching this point was the result of many long working group sessions involving more than 100 Mexican and U.S. professionals to define a joint strategy," said Governor Avila Olmeda."With this solid teamwork, we are taking a crucial step that will positively impact the quality of life of future generations on both sides of the border."
The Governor also stressed the importance of adequate wastewater treatment in order to achieve optimal regional development, commending the work done by the North American Development Bank, as well as the Mexico Section of the International Boundary & Water Commission and the U.S. Environmental Protection Agency.
She explained that in the first phase, the International Wastewater Treatment Plant will be expanded to double its current capacity to treat wastewater flows from Mexico to the United States. In addition, improvements will be made to wastewater treatment infrastructure and the reuse of effluent from the La Morita and Arturo Herrera treatment plants.
"We are making sure that these actions are implemented immediately, but even more importantly, we are here today laying the foundation for long-term sustainable development," she pointed out.
For his part, Baja California Treasury Secretary Marco Antonio Moreno Mexía highlighted that this event marks the first time the State Government has contracted Green Financing, an innovative financial instrument that will provide more transparency on infrastructure investments by promoting accountability and more clarity on expected outcomes.
He also emphasized that the actions outlined in the financing are in line with both the 2019-2024 Mexico National Development Plan and the 2022-2027 Baja California State Development Plan.
"Thanks to the sound structure and good financial performance of the State of Baja California, both commercial and development banks showed interest in this type of funding. As a result, the State received proposals totaling $6.75 billion pesos—more than 2.25 times the amount targeted," stated Treasury Secretary Moreno Mexía.
He also mentioned that NADBank helped develop the Sustainable Finance Framework and will provide a US$257,000 technical assistance grant to support implementation of the financing.
Gabriel Yorio González, Mexico Deputy Secretary of Finance and Public Credit, said that Baja California has implemented an innovative practice at the subnational level, which is likely to be adopted in the near future by other states, particularly those located on the border.
He added that this practice known as the "Sustainable Finance Framework" is aimed at identifying and channeling the necessary funding to sustainable projects, as well as making sure its purpose is effectively met. Yorio Gonzalez pointed out that the Ministry of Finance and Public Credit is developing a Sustainable Finance Strategy that seeks to leverage funding for projects and actions that benefit both the environment and society.
For his part, NADBank Managing Director Calixto Mateos said that the green financing has a term of 30 years, a three-year principal grace period and incremental principal payments, at 1.1%, as well as competitive interest rates. The financing is divided into two tranches: the first tranche for $1.0 billion pesos has a fixed rate of 10.165%, which is below the 28-day TIIE rate; and the second tranche for $2.0 billion pesos is at TIIE plus + 0.925%.
Green Financing is part of the "Sustainable Bond Framework of the State of Baja California," which is based on the general climate change strategy and social policies at both the state and country level and is in line with the Sustainable Development Goals (SDG), also known as global goals, which were adopted by the United Nations in 2015 as a universal call to end poverty, protect the planet and ensure that all people may enjoy peace and prosperity by 2030.
-. -. -