The Village of Vinton in El Paso County, Texas celebrates completion of its Water Distribution System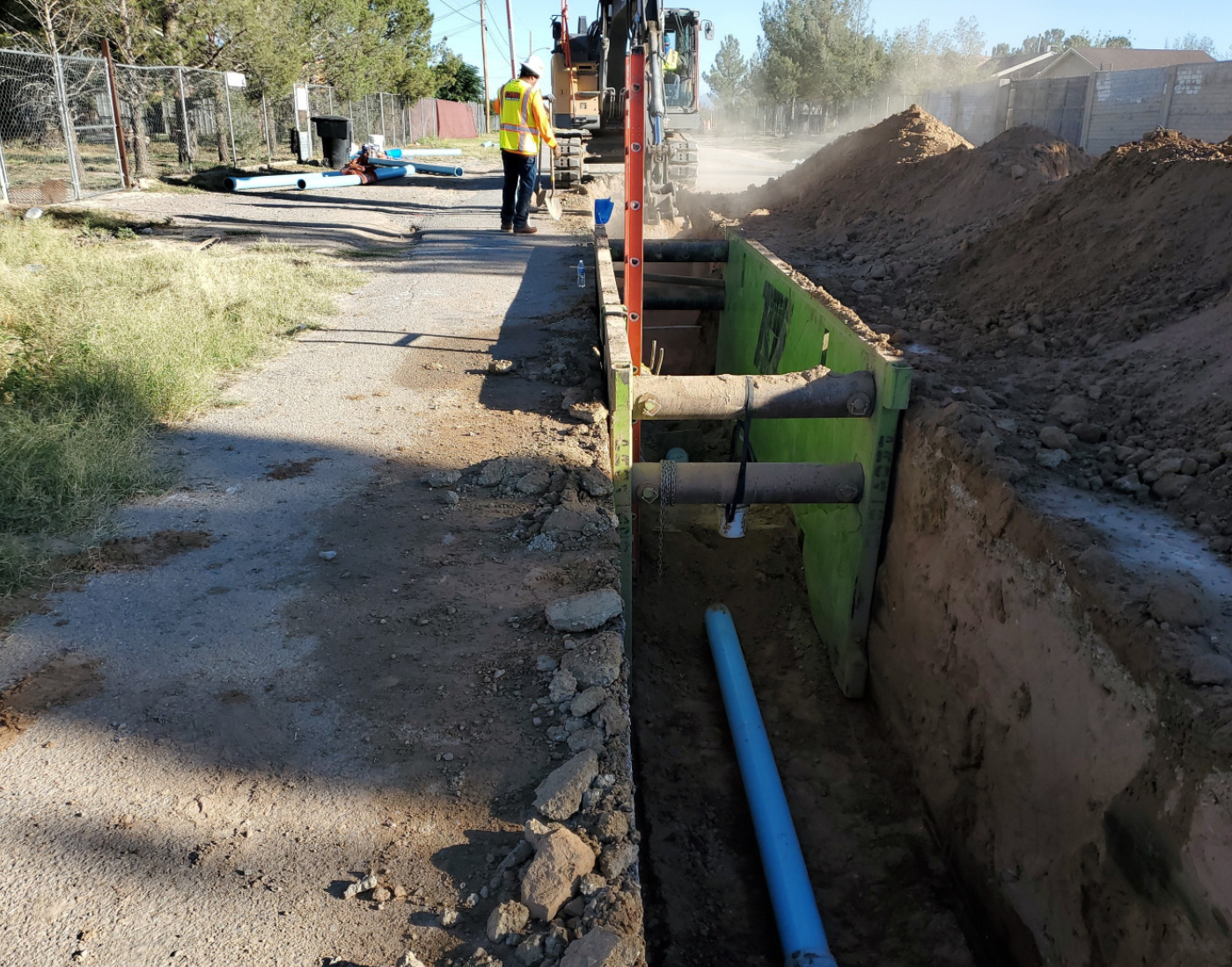 Installation of first-time household connections to the wastewater collection system and decommissioning of septic tanks will start in July
El Paso County, Texas – The Village of Vinton in El Paso County, Texas, celebrated today the completion of its Water Distribution System Project and is now providing access to safe and reliable drinking water services for 1,500 residents.
The ceremony was presided over by U.S. Congresswoman Veronica Escobar (TX-16), Village of Vinton Mayor Rachel Quintana; Dr. Earthea Nance, U.S. Environmental Protection Agency (EPA) Region 6 Administrator; John Beckham, North American Development Bank (NADBank) Deputy Managing Director; Dalia McAnally from the U.S. Department of Agriculture Rural Development (USDA-RD,) and Jessica Pena from the Texas Water Development Board (TWDB).
The water distribution system was built in two phases that included the installation of more than 36,580 linear feet of PVC pipe, fire hydrants, and service meters for 368 households. The new system will eliminate exposure to arsenic and pathogenic organisms that were identified in the water sources.
During the ceremony, it was also announced that the next phase of the wastewater collection system, which includes the decommissioning of septic systems and installation of household connections for 506 existing homes to access wastewater collection services for the first time will start this July. Vinton has been working on a parallel project for the construction of a wastewater collection system since 2021.
"It's wonderful to see the continued progress of our collaborative efforts to bring basic water services to our region," said Congresswoman Escobar. "Necessities such as drinking water are a human right; as the wealthiest country in the world, it is shameful that so many residents have had no reliable access to these services. I remain committed to ensuring the federal government delivers the resources needed and am proud of the progress the administration and relevant agencies have been making to help so many. I am incredibly grateful to all the partners involved and look forward to seeing this critical work continue."
Both projects are being partially financed with a total of US$4.9 million in grants provided through the Border Environment Infrastructure Fund (BEIF), which is funded by EPA and administered by NADBank.
"Access to clean, reliable water service is essential for any community to survive and thrive. Providing the funding to make this happen for the Village of Vinton and other deserving municipalities is part of EPA's most vital work," said EPA Regional Administrator Dr. Earthea Nance. "I appreciate the work of NADBank, USDA, TWDB and other partners to bring these projects to life."
The USDA-RD also provided US$7.1 million in grant and loan funds for the water project, while the TWDB awarded up to US$16.7 million in grant and loan funds for the first phase of the wastewater collection system, which included the installation of 4,200 linear feet of force main, as well as the construction of a lift station north of Vinton Road.
"Just a month ago, most of us were here in El Paso County to break ground for the construction of basic, but vital services for another community and today, we've come together again to witness the outcome of yet another collaboration among NADBank, EPA, USDA and TWDB, which is making these projects possible for small communities like Vinton," stated NADBank Deputy Managing Director John Beckham. He added that "NADBank will continue to build these relationships in benefit of the people and environment of the U.S.-Mexico border region."
"We are grateful for the support and the funding our community has received from the NADB/EPA," said Village of Vinton Mayor Rachel Quintana. "Failing septic tanks have long plagued our community and it with great excitement that we will be connecting all residential households to our new centralized sewer system." Moreover, "Cleaning up this contaminated site is an important step in protecting our children's health—and the health of all our residents—but it also helps spur development and gets us closer to achieve our goal of constructing a community center."
###
NADBank is a financial institution established and capitalized in equal parts by the United States and Mexico for the purpose of financing environmental infrastructure projects along their common border. As a pioneer institution in its field, the Bank is working to develop environmentally and financially sustainable projects with broad community support in a framework of close cooperation and coordination between Mexico and the United States.