Tornillo, Texas receives US$3.25 million grant for a new arsenic treatment facility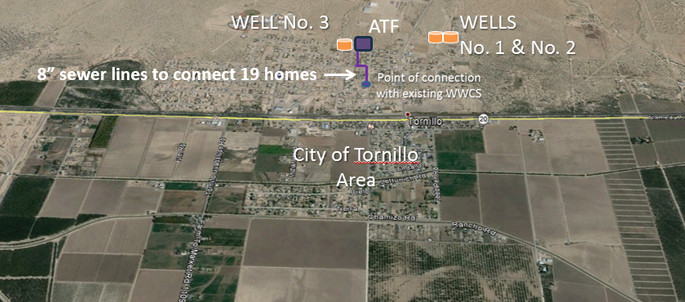 The grant funds are being provided by the U.S. Environmental Protection Agency (EPA) through the Border Environment Infrastructure Fund (BEIF), which is administered by NADB.
EPCTWID provides water service to Tornillo through the operation of two active wells in the Hueco Bolson Aquifer and has a third well for contingencies. Naturally occurring arsenic in the aquifer regularly exceeds regulatory limits for potable water allowed under the Clean Water Act (CWA).
To remedy this situation, EPCTWID will construct an arsenic treatment facility (ATF) that will initially treat water from Wells No. 2 and 3, which will continue to pump at their current rates of 270 and 290 gpm, respectively. The utility has also requested TCEQ approval to treat the water from Well No. 4 rather than increase the pumping capacity of Wells No. 2 and 3.
The ATF will be a site assembled package facility located at the site of Well No. 3 and the Tornillo water storage tank, and includes two parallel 600-gpm sand separators, a chlorine detention tank and two arsenic removal units equipped with anthracite, a Greensand Plus filtration process and gravel. In addition, 19 new wastewater connections will be incorporated into the ATF waste line, providing first-time service to 19 residences.
The project, which was certified by the Border Environment Cooperation Commission (BECC) on August 28, 2014, will bring the water supply into compliance with existing environmental regulations, as well as eliminate discharges of approximately 5,600 gallons per day of inadequately treated and untreated wastewater.