US$22.9 million loan to support clean energy in Southern California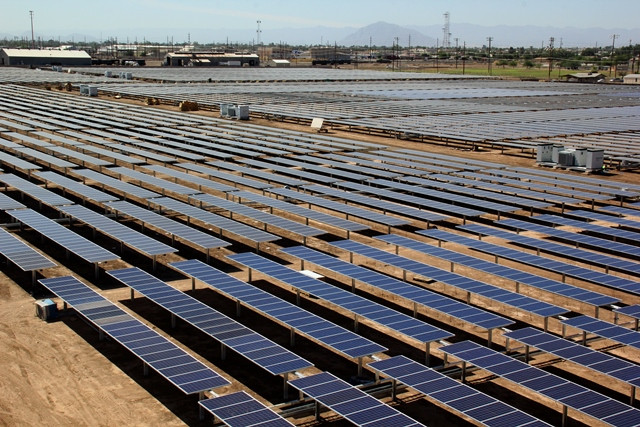 San Antonio, Texas – The North American Development Bank (NADBank) and Sol Orchard Imperial 1, LLC executed a US$22.9 million loan increase to support capital investments, including replacement of all the inverters in the El Centro Solar Park, owned by Excelsior Energy Capital, in El Centro, California, to increase energy production.
"I am pleased that the North American Development Bank increased their loan amounts to businesses in my district," said Rep. Juan Vargas. "I applaud their investments in providing clean energy as we work to tackle climate change in California, the United States, and abroad."
In 2013 the El Centro Solar Park received a US$53.4 million loan from NADBank to support the construction and operation of a photovoltaic solar plant with an installed capacity of 20 megawatts in alternating current (MWAC) on land leased from Imperial Irrigation District (IID). The electricity generated by the project is being purchased by IID pursuant to a long-term power purchase agreement executed with the project company.
The solar park began commercial operations on October 31, 2013, and has been in operation for more than seven years. In April 2019, Excelsior Renewable Energy Investment Fund I LP acquired the project from Grupo T-Solar and recently acquired the residual tax equity interest in the project from Santander at the end of last year. Excelsior has since made several operational improvements to optimize plant performance.
"This loan increase will allow El Centro Solar Park to continue operating and producing clean energy in the most efficient manner possible, while also combatting climate change and helping the State of California achieve its 2045 climate goal of 100 percent clean electricity," stated Calixto Mateos Hanel, NADBank Managing Director.
"Excelsior is grateful for the expansion of our long-term partnership with NADBank through this refinancing and looks forward to continuing to find ways to invest together in renewables within NADBank's investment territory," said Anne Marie Denman, Partner and Co-Founder at Excelsior Energy Capital.
During more than 7 years of operation, the solar park has produced an average of 5.0 gigawatt-hours/year. The energy generated has reduced the consumption of other fossil fuel-based energy sources, contributing to the displacement of greenhouse emissions and other pollutants. As a result, an estimated 98,850 metric tons of carbon dioxide and 139 metric tons of nitrogen oxide emissions were avoided during this period.