US$9 million loan signed to finance a low-emission bus program in Mexican border cities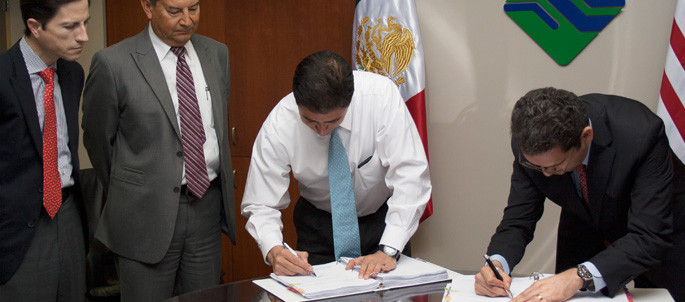 San Antonio, Texas. – The North American Development Bank (NADB) and Mercader Financial, S.A. de C.V. SOFOM, E.N.R. (Mercader) signed a peso-denominated loan worth US$9.12 million to implement a border-wide public transportation improvement program in Mexico aimed at improving public transportation fleets by facilitating the financing of low-emission vehicles, thereby contributing to the displacement of greenhouse gases and other pollutants in urban areas. The project is initially expected to support the purchase and/or leasing of 100 buses manufactured by DINA Camiones, an affiliate of Mercader.
NADB Managing Director Gerónimo Gutiérrez signed the loan agreement with Miguel Angel Velasco Martínez and Francisco Deaquino Vargas, General Manager and Chief Financial Officer of Mercader, respectively. The loan is in the form of a revolving line of credit with a disbursement period of up to 120 months and will cover approximately 80% of the cost of the buses.
"NADB is pleased to provide its first loan for a project in the public transportation sector," stated Mr. Gutiérrez. "We believe this project will allow border communities to offer better public transportation services and, more importantly, reduce emissions from old buses in poor conditions".
The vehicles available through the program will be manufactured by DINA Camiones, one of the largest bus and truck manufacturers in Mexico. All vehicles will at a minimum comply with EPA 2004 emission standards.
Mercader is a captive finance company whose main activity is to provide financing to clients of DINA Camiones. To participate in the program, potential borrowers must make a 20% down payment on the financed vehicles, have an existing license for the operation a public transportation vehicle, complete the training provided by the manufacturer, and comply with warranty requirements.
The environmental benefits of this project, which was certified by the Border Environment Cooperation Commission (BECC) in June 2014, include improving environmental and human health conditions by reducing vehicular emissions and urban congestion, as well as offering a comfortable, safe, rapid, and accessible transportation option for mass transit users.
To date, NADB has provided loans and grants totaling more than US$2.36 million to support the financing of 199 projects.