Water utility seminar begins in Tamaulipas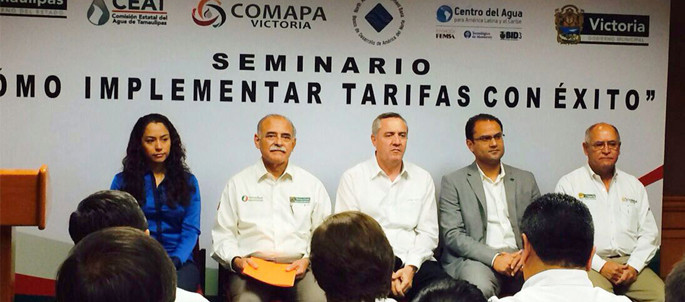 Victoria Mayor Alejandro Etienne Llano, along with Felipe Cano Pérez, director of the Tamaulipas state water agency, Comisión Estatal del Agua de Tamaulipas, and Eliseo García Leal, General Manager of the water utility in Ciudad Victoria, Comisión Municipal de Agua Potable y Alcantarillado de Victoria (COMAPA), hosted the seminar and welcomed the participants to the seminar.
CDA instructors will provide 16 hours of training to about 25 professionals from various water utilities across the state, including the cities of Aldama, González, Mante, Miguel Alemán, Nuevo Laredo, Reynosa, Río Bravo, Valle Hermoso, Victoria and Matamoros, among others.
The seminar is focused on identifying methodologies for designing and implementing water rates that will ensure the financial self-sufficiency of the utility based on criteria of efficiency and fairness. Topics to be discussed include cost analysis, development of a rate index, rate structuring and increasing revenue through structured rates. Upon completion of the seminar, the participants will receive certificates from the CDA.
Over the past three years, NADB and CDA have been working together to develop training programs for water utilities and municipalities in the Mexican border region. To date, NADB has provided training in water utility management to more than 2,000 water utility professionals, representing 200 communities on both side of the U.S.-Mexican border.
For more information about the UMI training program, visit www.nadb.org.