Work begins to rehabilitate sewer system in Ojinaga, Chihuahua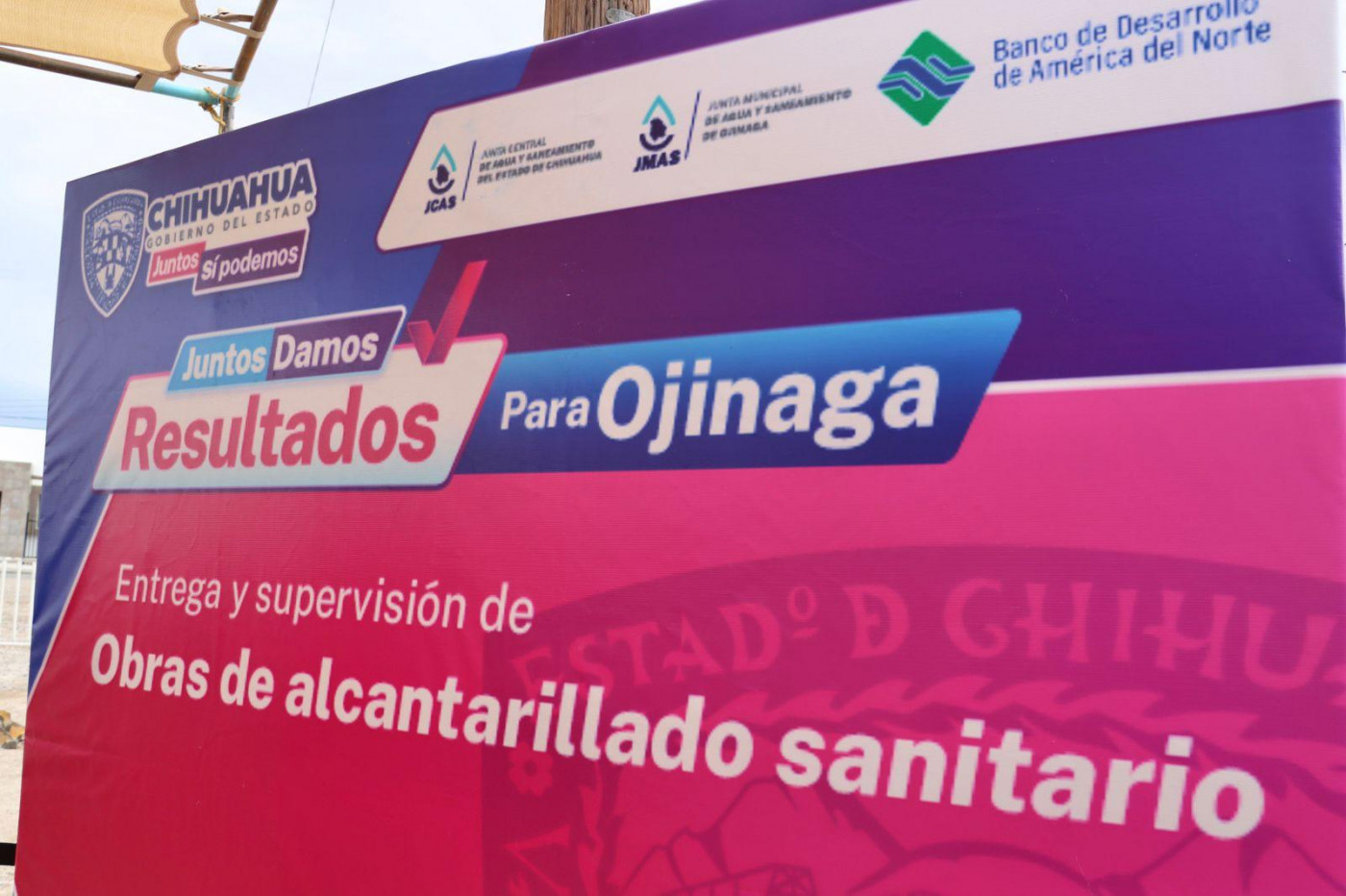 Project to help prevent contamination of the West Texas Bolson Aquifer, which supplies drinking water to Ojinaga and Presidio, Texas
Ojinaga, Chihuahua – This morning the City of Ojinaga kicked off the rehabilitation of its sanitary sewer system, which will help protect public health and the environment by reducing the risk of pipe failures that could cause sewage overflows onto local streets and contaminate surface and groundwater.
The local water utility, Junta Municipal de Agua y Saneamiento de Ojinaga (JMAS-Ojinaga), has received a $1.79 million grant from the North American Development Bank (NADBank) through its Border Environment Infrastructure Fund (BEIF), which is funded by the U.S. Environmental Protection Agency (EPA) and administered by the Bank.
A large portion of the wastewater collection system in the downtown area of the city has exceeded its useful life, giving rise to recurring problems with leaks, line breaks and the overflow of sewage from manholes that are contaminating surface water and the West Texas Bolson Aquifer, which is a shared water supply with Presidio, Texas. The contaminated surface and groundwater could also adversely affect the Rio Grande.
"Replacing aging and deteriorated wastewater lines is an issue that needs to be addressed in many communities on both sides of the border to prevent the contamination of vital water supply sources, and the spread of related diseases" said NADBank Managing Director Calixto Mateos Hanel. "It's only by joining forces with all three levels of government and with institutions like EPA and NADBank that the cost of rehabilitating this infrastructure can be met in order to continue providing quality services to communities."
The project, with a total estimated cost of US$3.69 million, consists of replacing approximately 90,840 feet of PVC pipe, construction of 239 manholes and the rehabilitation of the service connections to 1,700 residences. The BEIF grant will be used for the rehabilitation of the wastewater collection system, while the remaining project components will be covered by Mexican federal, state and local funding.
The groundbreaking ceremony was presided over by Chihuahua Governor Maru Campos Galván, along with Andrés Ramos de Anda, mayor of Ojinaga; Mata Carrasco, the head of the Chihuahua state water agency, Junta Central de Agua y Saneamiento de Chihuahua (JCAS); Alonso Pérez Alba, general manager of JMAS-Ojinaga, as well as representatives from NADBank and other local authorities.
###
NADBank is a financial institution established and capitalized in equal parts by the United States and Mexico for the purpose of financing environmental infrastructure projects along their common border. As a pioneer institution in its field, the Bank is working to develop environmentally and financially sustainable projects with broad community support in a framework of close cooperation and coordination between Mexico and the United States.