Brownsville completes wastewater collection system and residential connections in FM 511-802 Colonias project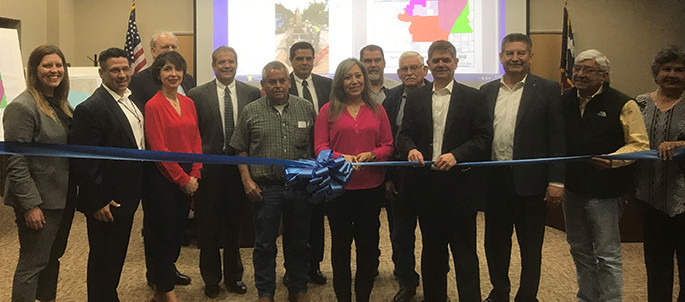 Brownsville, Texas – A ribbon-cutting ceremony took place this afteroon to commemorate the completion of a wastewater collection system and residential connections in the FM 511-802 Colonias to provide service to more than 2,200 residents in the southeastern area of the city of Brownsville, Texas.
With a total cost of US$29.74 million, the project entailed the construction of seven new lift stations and rehabilitation of three existing lift stations, as well as the installation of approximately 25.6 miles of sewer lines, funded by the Texas Water Development Board (TWDB) and the Brownsville Public Utility Board (BPUB).
The project also connected 572 homes to the new system and decommissioned 474 septic tanks and/or cesspools. The new system is now collecting an estimated 175,720 gallons a day of sewage that is being conveyed to the South Wastewater Treatment Plant. The project received US$3.63 million in grant funds provided by EPA through the Border Environment Infrastructure Fund (BEIF), which is administered by NADB, for the installation of the sewer connections and the decommissioning of the on-site septic tanks.
The ceremony was presided over by Congressman Filemon Vela (TX-34); Sofia Benavides, Cameron County Commissioner; Alex Hinojosa, Managing Director of the North American Development Bank (NADB); Erin Chancellor, Chief of Staff to the U.S. Environmental Protection Agency (EPA) Regional Administrator for Region 6; Mireya Lowe, representing TWDB; and John S. Bruciak, P.E., BPUB General Manager.
"We are proud of our collaboration with EPA and the Texas Water Development Board to assist the Brownsville Public Utility in providing first-time sewer services to more than 2,000 colonia residents, significantly improving their quality of life by eliminating exposure to inadequately treated wastewater," stated Alex Hinojosa. He also added "Facilitating basic services to the most vulnerable residents is only possible when all levels of government work together."