North Alamo Water Supply Corporation celebrates completion of a regional wastewater collection and treatment project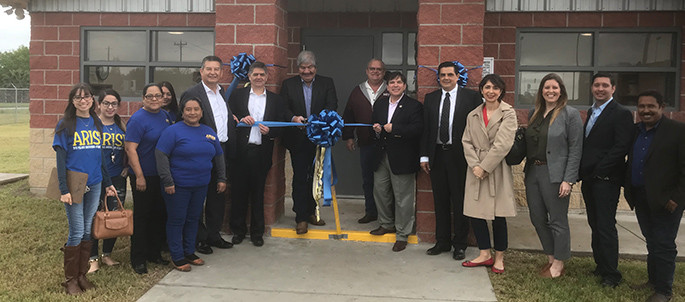 Donna, Texas – A ribbon-cutting ceremony took place this morning to commemorate the completion of a Regional Wastewater Collection and Treatment Project in Hidalgo County, Texas to provide service to more than 1,600 colonia residents. The project was sponsored by the North Alamo Water Supply Corporation (NAWSC).
The ceremony was presided over by Congressmen Vicente Gonzalez (TX-15) and Filemon Vela (TX-34); Alex Hinojosa, Managing Director of the North American Development Bank (NADB); Erin Chancellor, Chief of Staff to the U.S. Environmental Protection Agency (EPA) Regional Administrator for Region 6; Mireya Lowe, representing the Texas Water Development Board (TWDB); and Agustin Gomez, NAWSC General Manager.
With a total cost of US$11.78 million, the project included the construction of a 0.50 million gallon/day (mgd) regional wastewater treatment plant and wastewater collection systems to provide first-time access to 400 homes in six colonias: Alberta Acres, El Charro # 2, Isaac's Subdivision, L. J. #1, Muniz Subdivision, and Tower Road Estates, as well as the decommissioning of the on-site wastewater disposal systems.
The project received US$1.89 million in grant funds provided by EPA through the Border Environment Infrastructure Fund (BEIF), which is administered by NADB, for the construction of a lift station and about 13,180 feet of force main and 4,990 feet of gravity sewer lines, the installation of 82 residential sewer connections and the decommissioning of the on-site sanitary systems.
The NAWSC also received funding from TWDB, through its Economically Distressed Areas Program (EDAP), for the planning, acquisition, design and construction of the sanitary collection system in the area.
"We congratulate the North Alamo Water Supply Corporation for taking the initiative to provide quality wastewater services to hundreds of colonia residents for the first time, which will significantly improve their quality of life," stated Alex Hinojosa. "Grant monies are scarce, and only with the collaboration of all levels of government is it possible to address the needs of these small communities."
He also added: "We thank Congressmen Vela and Gonzalez for their support to secure funding to continue helping the neediest areas in south Texas and along the U.S.-Mexico border."